Życie Morskie Oceanarium w Londynie
Życie Morskie Oceanarium w Londynie
SEA LIFE London has one of Europe's largest collections of marine life and is a must-see for anyone who's interested in sea life. At SEA LIFE London, you can among many things experience over 500 species and plants, see over 40 sharks from 12 different species, meet a Gentoo penguin and experience the fascinating world of jellyfish in the new exhibit Ocean Invaders.

Highlights:
- Save 35% by booking your tickets with us
- Skip the line with priority access
- Spend a day at SEA LIFE London Aquarium
- Get to know a Gentoo Penguin
- Admire the brand new exhibit Ocean Invaders
- Experience the UK's largest collection of jellyfish
- Visit the 14 themed zones
- Enjoy the flexibility of an open ticket (1 month)
- Bring your children under age 3 for free


Up to £ 10 off the price at the door!
Visit SEA LIFE between September 4 and December 20, 2017 and save up to 35%.
Offer is not valid during October half term from 20th to 29th October 2017
If you visit SEA LIFE at any other time you'll still save 20%.
Explore the Life under the Sea
At SEA LIFE London you can experience thousands of creatures in over 2 million liters of water. The aquarium houses 500 species from all over the world, more than 40 sharks from 12 different species divided into 14 themed zones over three floors.
Don't miss this great opportunity to come close to some of the wonders of the marine life!
NEW: Experience Ocean Invaders

Ocean Invaders welcomes you to enter the world of Jellyfish at SEA LIFE London. It's the largest jellyfish experience in the UK, allowing you to take a journey
into the fascinating world of jellyfish in the three unique interactive zones.

In this brand new experience you'll find yourself surrounded by jellyfish with jaw dropping displays featuring a variety of species, including Moon jellyfish, the Upside Down jellyfish and the Japanese Sea Nettle jellyfish.
How does it work?
When you book your tickets, choose the date you arrive in London as the 'Valid from' date. Your tickets will be valid one month from the 'Valid from' date.

Choose number of tickets and click on 'Search'. Then you choose the number of adult or children's tickets you need. Children's tickets are only available together with adult tickets. Then you choose to add tickets to other attractions or transportation in London to your purchase.

How do I get my tickets?
Shortly after your booking is complete your e-ticket will be send directly to your email, just print it out and bring it with you to SEA LIFE London Aquarium.
How long is my ticket valid?
You can use your ticket one month from the 'Valid from' date you choose. That way you can visit the aquarium on a day it happens to rain or it fits your plans.
Are there children's tickets?
Yes, children's tickets are available for children between age 3-15. Children from age 0-2 are free, when accompanied by a paying adult.

The discount is compared to the price at the door
Bardzo dobrze
4.0
Opinie od 5 opinie klientów
Akwarium
Oceanarium jest zbyt szumnym określeniem tego, co zaprezentowane jest w London Sea Life, aczkolwiek czas spędzony tam nie był dla nas czasem straconym. Spodziewaliśmy się "bycia w oceanie", czyli chodzenia szklanymi kanałami pomiędzy pływającymi stworzeniami morskimi. Takie coś było, ale na bardzo krótkim odcinku i tylko raz. Mimo to wystawa jest ciekawa, wspaniale prezentuje się gigantyczne akwarium z największymi rybami. Mnie urzekły płaszczki, które - widziane od dołu - wyglądają jak morskie ptaki, synowi najbardziej podobały się rekiny. A poza tym - symulator huraganu, po którym jednakże syn nabawił się kataru (tak sądzimy, że to po tym). Pingwiny są OK, ciekawe jest obserwowanie ich, gdy pływają, tylko szkoda, że te biedactwa chyba nigdy nie widzą światła słonecznego (tak przynajmniej nam się wydaje).
Atrakcja warta zobaczenia, dzieciaki zachwycone - polecam
dzieciaki zachwycone, szybkie dojście do akwarium z biletami kupionymi w internecie
Sea Life
Bez kolejki bez zbędnych formalności ...Polecam :) czasem warto kupić wcześniej i nie stać w wielkich kolejkach :)
uzdolnione aktorsko pingwiny
bardzo ciekawa lekcja przyrody morskiej,ciekawy wystrój. rewelacyjen pingwiny
London Sea Life Aquaeium
Nie było problemów z wymianą voucherów na bilety. Obsługa była szybka - kolejka znacznie mniejsza niż dla tych którzy chcieli zakupić bilety bezpośrednio w kasie. Skorzystaliśmy z następujących rezerwacji: Madame Tussads, London Eye, Tower of London, St. Paul Cathetdral, The Original Tour, London Sea Life Aquaeium. Wszystkie powyższe atrakcje godne polecenia.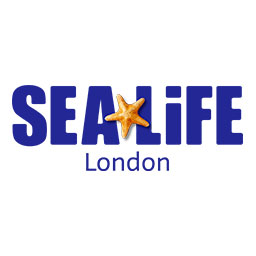 Info
Życie Morskie Oceanarium w Londynie
Adres
SEA LIFE London Aquarium
County Hall
Westminster Bridge Road
London, SE1 7PB


Wyświetl mapę
Godziny otwarcia
Od poniedziałku do czwartku godz. 10:00 -17:00
Od piątku do niedzieli godz. 10:00 – 18:00
Ostatnie wejście godzinę przed zamknięciem.
Metro
Stacja metra Westminster i Waterloo (Linie metra: Circle, Jubilee i District)
Stąd na pieszo 5-10 min.!